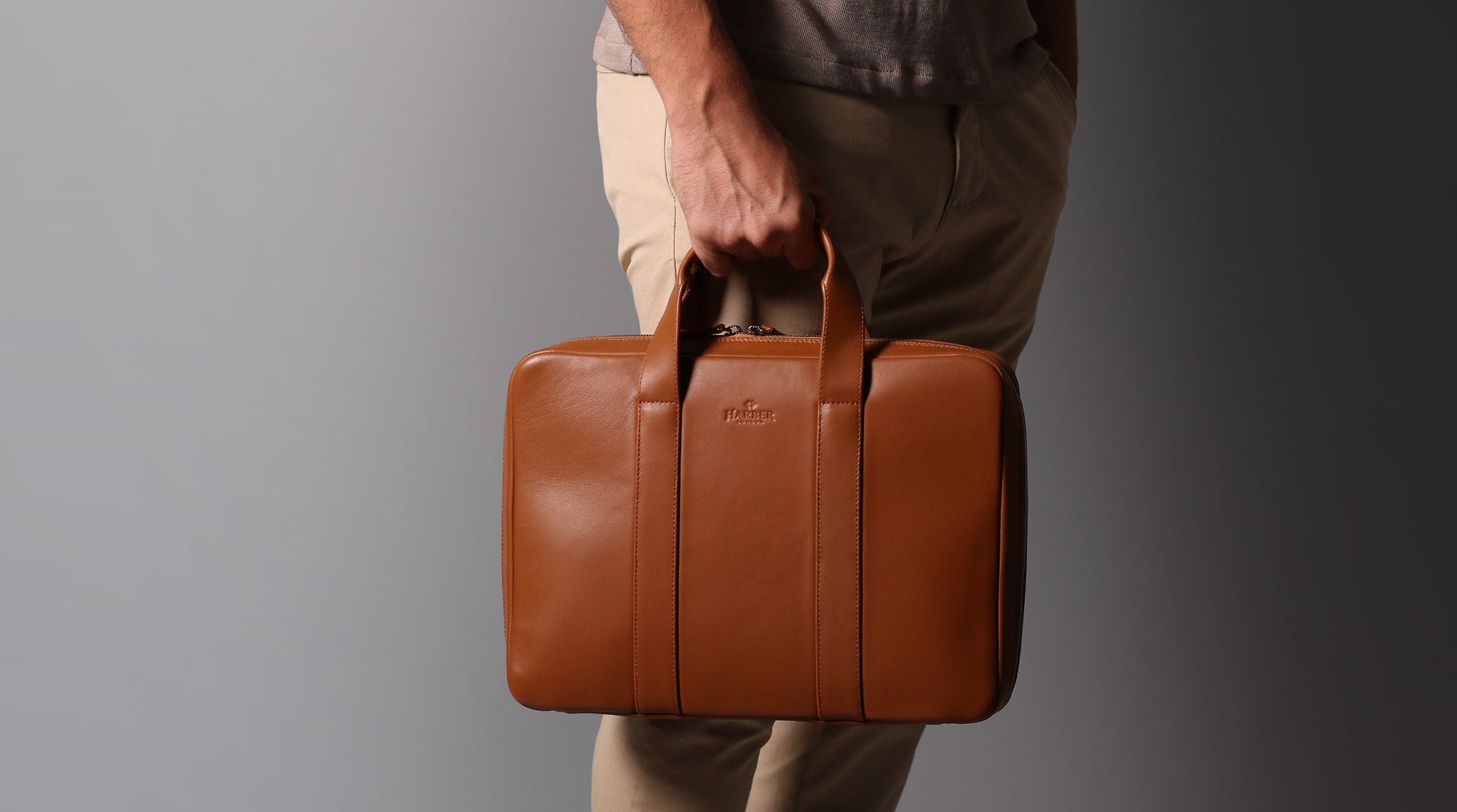 Premium Leather Briefcase that ages beautifully
Our Laptop Briefcase is handcrafted with Premium Full-Grain Leather that ages with character, adding personality and a timeless touch as it wears out.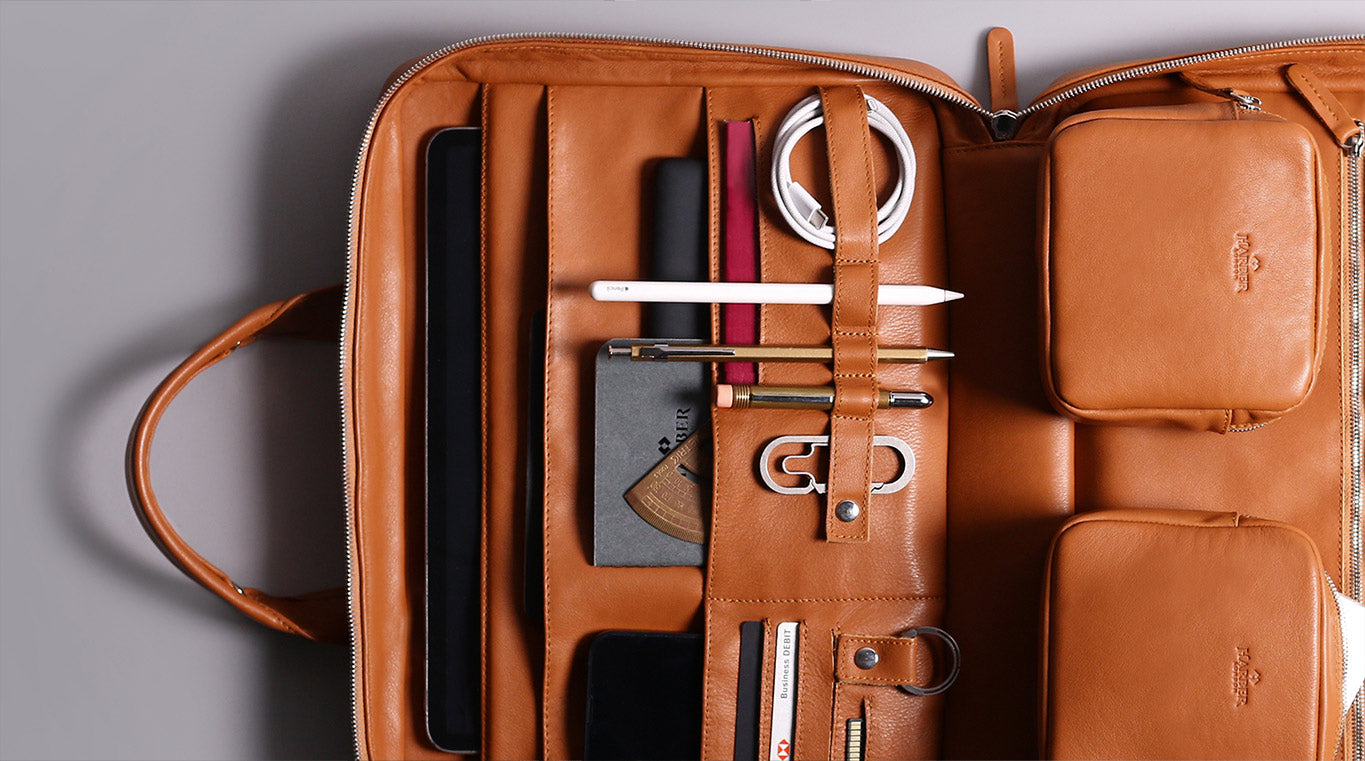 Our Laptop Briefcase is designed for 13"/14" Laptops or 15"/16" laptops
Fits 13" / 16" MacBook Pro as well as Surface, ThinkPad, Dell XPS and other popular laptop brands.
Our Laptop Briefcase fits iPad Pro 12.9" tablets
Fits all iPad Pro models with their covers attached, from the iPad Pro 12.9" to the smaller versions as well as other popular tablet brands.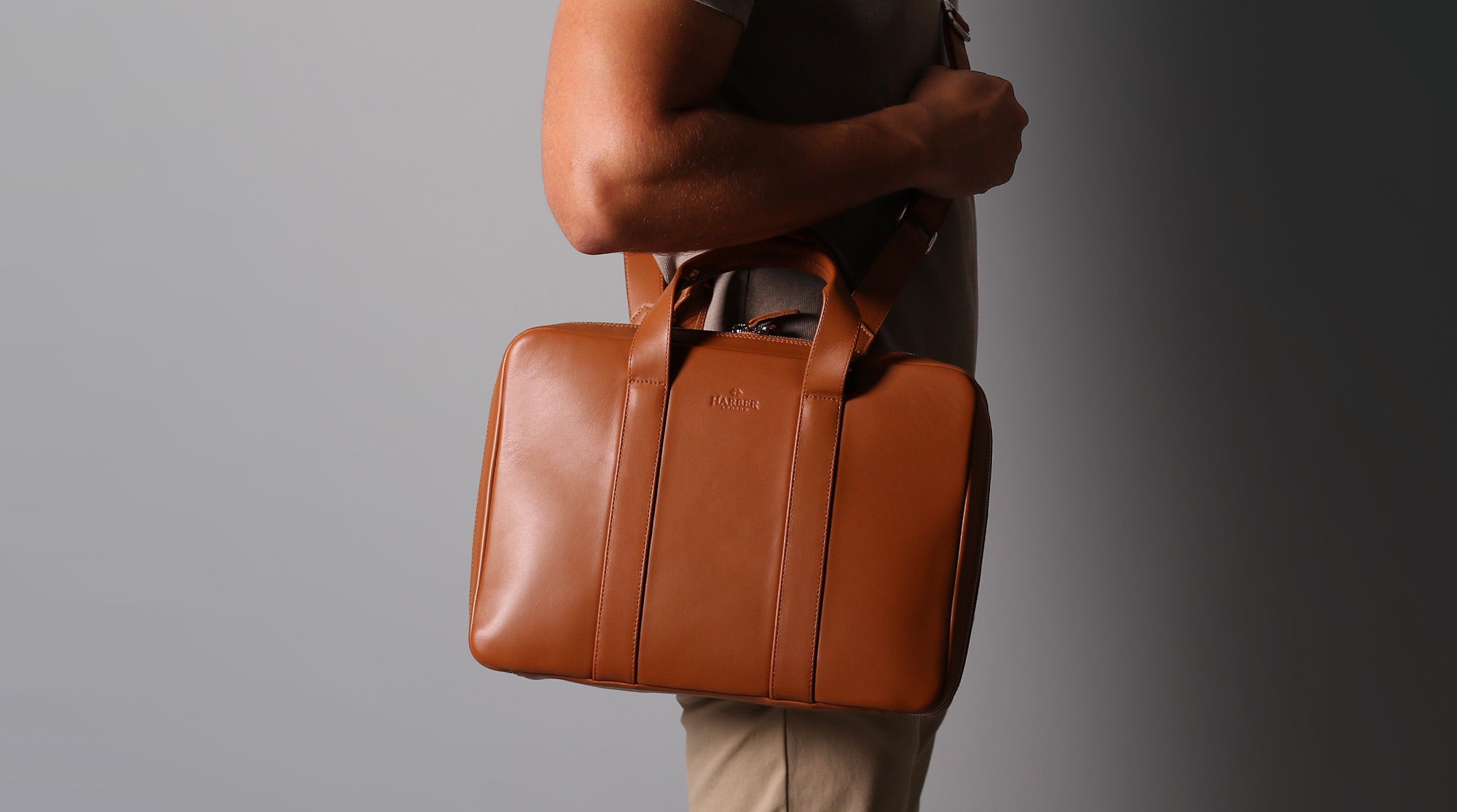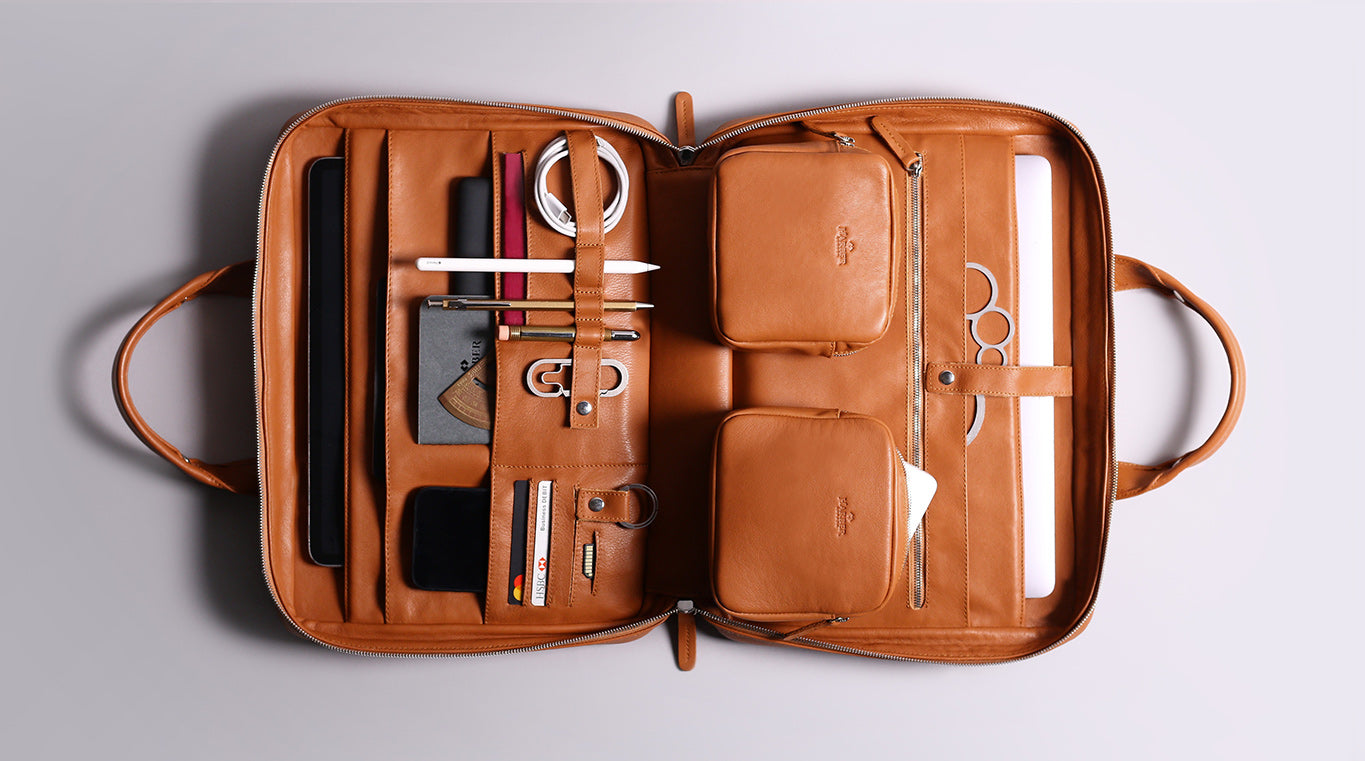 Keep it all tidy inside your briefcase
Carry all your cords, pens and notebooks well organised inside the briefcase. Say good bye to the carry chaos and keep it all neat and tidy.
Quality & handsome bag
This is beautiful briefcase; lovely leather, sturdy build quality, and useful internal structure, all in a compact design, makes this an ideal bag for daily and travel use.
Why the large Laptop Briefcase works great for me
I'll go into some detail so others can understand my context and needs. For over a decade I had a leather laptop briefcase that was similar to Tumi in that it had 2 outer pockets where I could shove my passport, cables, power bank, etc. When the zippers fully failed, I didn't want to go same brand (given zippers and cloth failed) and didn't want to go back to Tumi b/c that Tumi is ugly and I don't like carrying obvious brand names. So based on internet reviews I got the Stuart & Lau Cary Double (S&L). The S&L has several pockets on outside that I used a lot and lots of pockets inside. But I found because the materials were too soft, the interior pockets were essentially useless to me--pockets would lose form as I put stuff in there so I couldn't just reach in and know in a certain area is where I can pull out my earphones, my charger, my cables, etc. With Harbor's leather interior pockets, I figured this problem would go away, and it did! So I can always put my AirPods someplace, specific able someplace, foreign currency someplace in the Harbor and know I can open it up partially (i.e., just the top) reach in and grab what I want.
And I can stuff my electronics into the 2 removable pouches inside. I feared the pouches would be too small, but in fact I have fit all my chargers, cables, etc. in them. I also carry a pair of glasses specifically set for looking at the laptop distance, and that eyeglass case fits perfectly between the 2 removable pouches. I usually also carry a portable music player and high end CIEMs, both of which I put in a small rectangular pouch that I then put on top of the 2 pouches. So in sum, the Laptop Briefcase gives me the organisation I need for all my EDCs ... and looks much better than both of my prior briefcases.
That said, I do miss the exterior pockets of the prior briefcases and wish Harbor would make a version that has say one exterior, zipped pocket across the length of the bag. I previously used the exterior pockets to hold my passport, boarding pass and 2 phones, as I travel internationally every week. Opening up the Harbor to reach and get my passport to scan and put away my phone in front of immigration is not so convenient (and yes I knew I'd lose this functionality in buying this.) I did previously try out the Work Briefcase, but I didn't like the look so exchanged it. To address my need, I instead bought a thin leather neck pouch that can hold my passport and one phone. Once I don't need the passport I put the entire neck pouch in the Harbor b/c it's thin and hence fits.
So a detailed discussion of why I am happy with the large Harbor briefcase and how I got around the lack of external pockets ;). I didn't talk about the quality, which is excellent. Proof is that I plan to buy more Harbor products (likely an iPad or laptop sleeve next)